Finding pen pals for kids and teenagers online is often a hassle – especially if you've never met the person on the other end. And yet, penpalling is so much fun. Searching for pen friends definitely shouldn't be dangerous. We will dive into why PenPal is a safe website to find international pen pals for kids and teenagers aged 13 and up.
If you are a teacher looking for pen pals for your students or a student wanting to convince your teacher to pay for your postcards, check out our pen pal program for schools.
Free and safe pen pal programs – do they even exist?
We can reassure you – they do. At PenPal, we wanted to find a solution that would make penpalling easy, secure, and accessible for everyone. Including children and teens. This is why we developed a safe pen pal website, where you can match with people of your age across the globe based on your interests – without sharing your address. PenPal is available for all people older than 13 who want to find like-minded friends in an international environment.
4 reasons why PenPal is safe for kids and teenagers
1. You can find pen pals without giving your address
Writing a physical postcard without giving your address almost seems impossible. But it isn't. And this is why we believe that PenPal is perfect to find pen pals for kids or teenagers.
PenPal lets you create your postcards online, but physically send them to your pen pal's home. You know what country and closest city the pen pal is from. But the recipient's address is hidden by us, so you don't see the exact address of your pal – and they can't see yours. After you create a postcard and click "send", our mailing centers print it and add the respective address. This way, no one has to worry about giving their personal information to a stranger or getting into dangerous situations when looking for pen pals.
Read more about how PenPal protects your privacy here.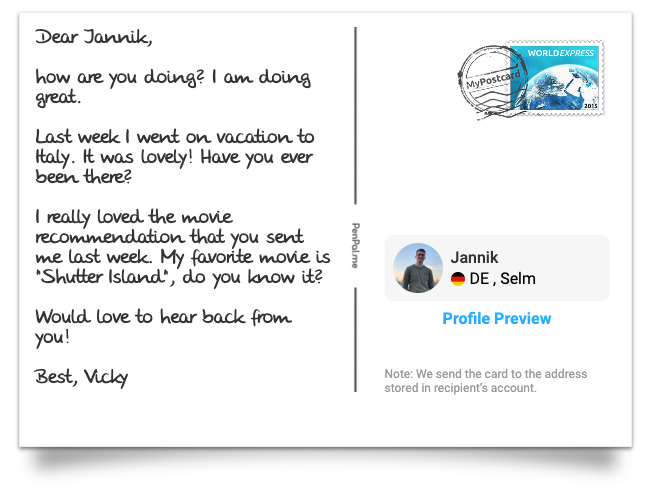 2. Kids and teenagers can only be found by pen pals of the same age
Another reason why finding pen pals for kids or teenagers is safe at PenPal is that users under 18 can only match with other minors. Shortly said, adults can't see the profiles of underage pen pals. This makes surfing and matching on PenPal more fun and safe for everyone.
Plus, you can even filter what age you want to match with. For example, if someone is 17 years old, but doesn't want to match with a 13-year-old, they can specify this in their filter settings.
2. We make sure that your pen pal is legit and that the address exists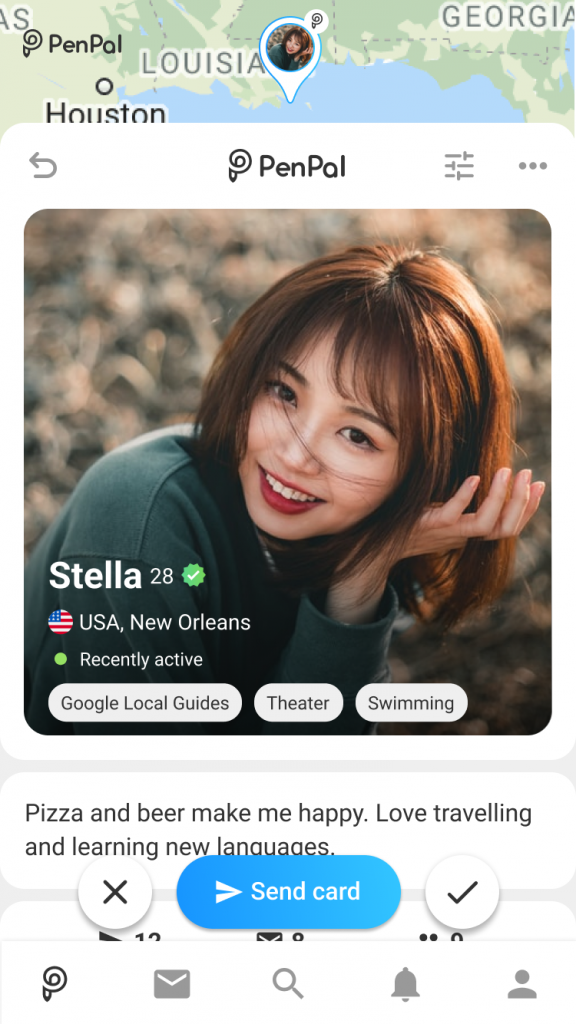 When new users create a profile and enter their addresses, our system checks if the address exists. If we find a wrong address, we contact the pen pal, and you won't be able to match with them as soon as they put a correct address.
When you send a postcard and it arrives at your pen pal's place, the recipient can register it with a unique emoji code printed on the card. This proves to you that your postcard arrived safely.
After sending and receiving a postcard, a user is verified and you can find a green checkmark next to their profile. This tick is proof of legitimate users. Additionally, you can see how many cards a user has sent and received, which is an indication of being an active pen pal.
4. Inappropriate content and postcards will be banned
At PenPal we want to create a safe space for everyone. This is why we continuously track inappropriate behavior on our platform. We use software that can detect improper language on profiles and postcards, as well as inappropriate photos. Any content that doesn't comply with our PenPal Community Rules will be banned. This ensures a secure environment for children and young people.
We match you with pen pals of the same interest
Despite being a safe platform, PenPal is a lot of fun for kids and teenagers. Whatever unique interest you are into, we are sure that we cover it in our interest section (and if we don't, you can give us feedback and we will try to include it). This said, our matching algorithm will connect you with same-aged pals from across the globe who are into the same things as you. Then you can exchange as much as you want via postcard on your favorite topics.
After swapping a set of postcards with the same friend, our chat function will be unlocked and you can write shorter messages to build up on your relationship.
Kids and teens can find pen pals to learn a foreign language
Learning a language on your own isn't fun at all. It's way more motivating to practice with peers and native language speakers. At PenPal, you have the opportunity to do that together with your pal by writing postcards in a foreign language. Just enter the languages you speak and the ones you would like to learn, and find like-minded pen pals. You can also filter the countries where you want to have a pen pal and make your search as targeted as possible.
Are you ready to find yourself a teen pen pal?
Now that you can be sure you've found a safe pen pal website for kids and teenagers, you can get started and jump into your adventure. If you experience any struggles, we are here to help.
If you don't know how to start your postcard and write to your new friend, take a glance at our conversation starters. And if you need even more persuasion, we collected some opinions from our community.