We love connecting like-minded people with each other. Unfortunately, caution and safety should still be on top of the list when meeting people online. Our PenPal team always puts the community's safety first and bans users with improper behavior immediately. However, we cannot fully influence or control the actions of others. Neither can you. But there are certain things that you can do to be safer. We've summarized some pen paling advice for you to explain how to be safe as a pen pal.
Did you know that PenPal hides your address and never shares it with others? We want to be a safe pen pal website where users don't have to worry about sharing their personal information. Read more about our privacy measures here.
How to meet people online. Safe.
Don't share your address or personal information
There's a good reason why we hide your address from other users – we want to make sure you're safe. Even if you've built up a good relationship with your pal by sending postcards back and forth, you don't always know for sure who's on the other side. We would wish differently, but the world is not safe enough yet. Before you share your personal address with your pal, make sure you know them and that they are who they claim to be.
The same advice counts for your personal information. Don't give out too many details of your daily routine, such as the fact that you go to this awesome Pizza place called 'Luigi's Pizza' every Tuesday at 7 p.m. in Birmingham Street or that you meet with your scout's group every Wednesday on the parking space close to the forest nearby. Of course, you should be open with your friend, but maybe not as open as an address book.
If you feel pressured by someone to reveal your address or personal information, please contact us.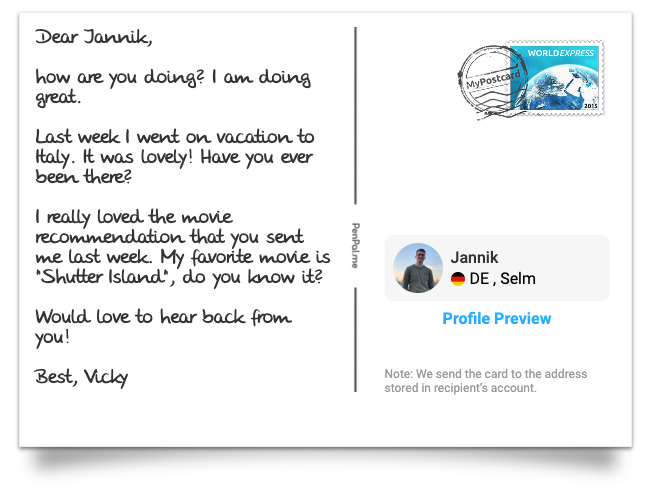 Never send money or financial information to someone
We advise you to never send money to someone you met on PenPal – no matter if in a physical or digital way. As soon as the money is sent, you don't know where in the world it is, what it is used for, and how to get it back. Even if the person claims to be in an emergency. Likewise, you should never share your financial information, since people might be willing to steal it from you. Please, always report such incidents to us immediately.
Don't tolerate uncool messages
You don't deserve inappropriate messages – and you should never tolerate or ignore them. As soon as you feel offended or detect suspicious behavior, report the user to us, and don't let them slip through. Here are some examples of violations:
(Sexual) harassment or threats
Racist or homophobic content
Spam or advertisement
Insults or abusive language
Fraudulent profiles
We will immediately ban users who violate our Community Guidelines from PenPal to prevent more damage. We do not tolerate disrespectful behavior and will make sure that everyone feels safe. Read more about how to be safe as an LGBTQ+ pen pal here.
Report users with inappropriate pictures
In our Community Guidelines, you can read which kinds of pictures are allowed and which aren't. We also use detection software to track prohibited pictures on postcards. However, this software is still not flawless. You are the person who can best say how you feel about receiving a postcard with a certain picture in your mailbox. If the postcard, for example, makes you feel offended or uncomfortable in some way, please report the user or get in contact with us.
Protect your PenPal account
We are not the first ones to tell you this, but make sure to protect your account by keeping your data secure and not sharing your password with anyone but yourself. Try to not use easily detectable passwords like your own birthdate or the name of your sister. Always be careful when using PenPal in a public space or from a shared computer. PenPal will never email you, asking for your username and password information. If you ever receive such mail, report it immediately!
Also, make sure to use a strong password and one that differentiates from the ones you use on other sites (we know, it's the hardest task ever to remember all the passwords 😵‍💫​). If you signed up with Gmail or Facebook, this challenge might be a bit easier.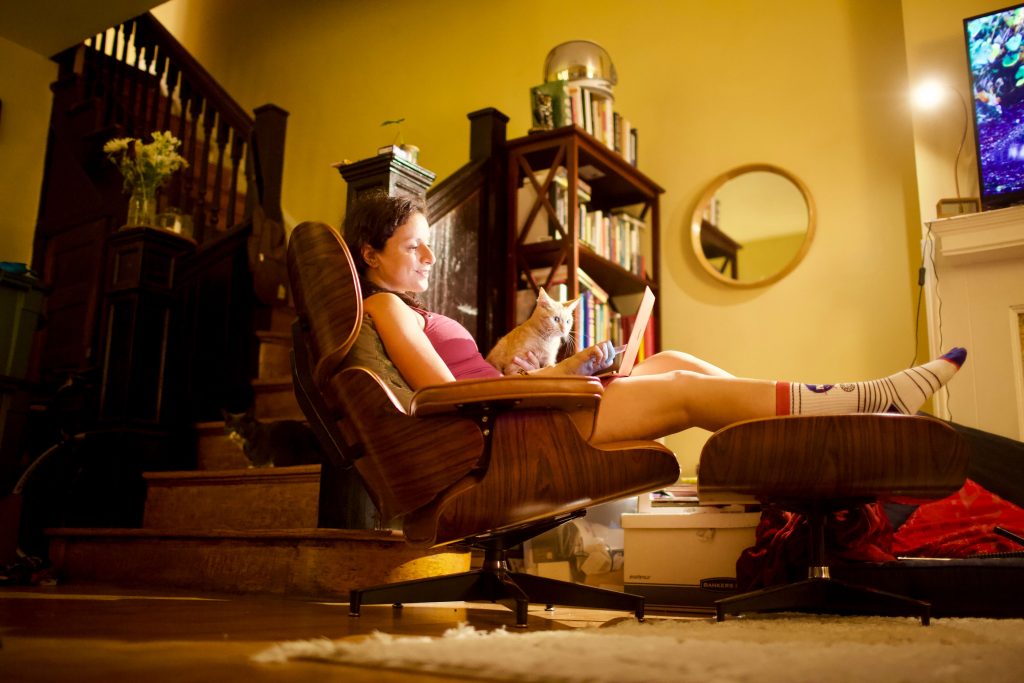 Check your filter and privacy settings
Make sure your filter and privacy settings are in the right mode. If you, for example, only want to get in contact with other pen pals of a certain age, you can specify this in your filter settings. This way, you can also be found only by other people of that age. Read more about how to be safe as a teenage pen pal here.
Additionally, you should check your privacy settings. Next to the normal public mode, you can also switch to a restricted mode where others can only send you postcards if you have matched first. Or, you can use a private mode that excludes you from PenPal match, so you can only write with the pen pals you already have.
Any concerns or comments about how to be safe as a pen pal
We know, we are not perfect, and we can never do enough to protect our community. There is always something that we can do better. Please, if you have any problems or ideas about how we can make pen paling safer for you and others, get in contact with us. Your ideas help us immensely.
But for now, let's just enjoy the fun of writing postcards. Happy pen paling to everyone.