The face behind Flea Market Love Letters, Liz Maguire, shares her thoughts on the history – and future – of letter writing.
Liz Maguire agrees to chat with me about pen pals, letters and postcards on an evening after work in June. It being 2021, AKA another pandemic summer, we're meeting via Zoom. 
Let me introduce you. Liz Maguire is the smiling, funny and above all passionate person behind Flea Market Love Letters, a project devoted to preserving vintage letters for future generations and sharing them with the world. Incredibly, she herself has had over 80 pen pals and counting, written hundreds of letters and postcards, and is heading a revival of letter writing in the 21st century.
Naturally, I want to know how all this started. Liz, what got you sharing letters in the first place?
I started sharing letters in 2017. The apartment that I was staying in at the time had been renovated after a fire. And I already collected vintage letters. And I was like, if that happened again, they'd be gone forever. So one afternoon, I compulsively photographed around 100 letters. And then I thought, well, the photographs aren't the letters themselves…
I then started a Tumbler and an Instagram for Flea Market Love Letters. I had no posting schedule and no consistency at all. I had no idea if anyone would give a fig! Once I changed the theme of the project from envelopes to handwriting, people became much more interested. There's something about the handwritten letter that people are really drawn to.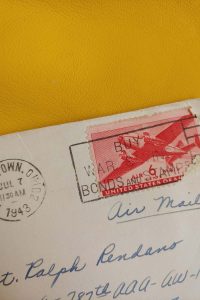 Hang on. Why the initial envelope focus?
The first series I ever did was in two pieces. The first piece was a series of letters from a war bride in the UK to her American GI fiancé, with her basically trying to organize coming over after Victory Day. She was trying to get forms organized, and he was just not on the same page. She has to wait four extra months for the boat. Later, in 1951 or 1952, she went back to England for the summer to visit with her mom and that was really cool because this was communicated using blue aerograms- a letter that folds up into itself.
Cool! In that case, why is it that you don't you focus on historical objects or other kinds of first-hand accounts?
I think because letters are just such a personal thing. I did a degree in English and I love first-hand sources, you can learn a lot. You can't ever have enough first-hand sources to back up what you're doing.
True! The funny thing about the vintage letters shared on your Instagram is that they seemed to talk about just the same kind of things then as we talk about today…
Yes! There was a woman last week who shared about how her grandparents and her siblings got together to read their parents' wartime letters. When they read them, they were super raunchy, and they couldn't handle it – thinking eww!
There's a tendency for the generation after to desexualize the people who came before… But then, how did the next generation happen!?
What about the effect of the pandemic: Are you seeing more interest in the project this and last year?
Complicated question. More people have been home, so access has been different. I'd like to think the project is growing because people are realizing the significance of letters. I think everyone has some version of a letter story. And Flea Market is a space for people to write in about them...
I had someone write in about her parent who had dementia. She was trying to transcribe that parent's parents' letters so that when her mom started to lose things, she could read through them. There's other people who write in who are seniors themselves and are trying to figure out how to preserve family letters for their grandchildren. And then there are people who've written in because their grandparents have destroyed or lost these things. That's always really hard.
"A letter is a temporal thing. It's a moment of time that that person wrote, and it's your moment that you're retuning"
Do you think there's a connection between people's interest in these vintage letters and starting to write letters themselves?
I think there is a definite link between holding an 80-year-old piece of paper in your hand and then realizing there is nothing stopping you from doing that yourself – nothing but the access to someone who's willing to receive a letter. Because I think our generation would feel very strange just writing each other a letter. That's why pen pal programs like yours are important because there are people who want to write letters, but they're having trouble finding other people who want to receive them.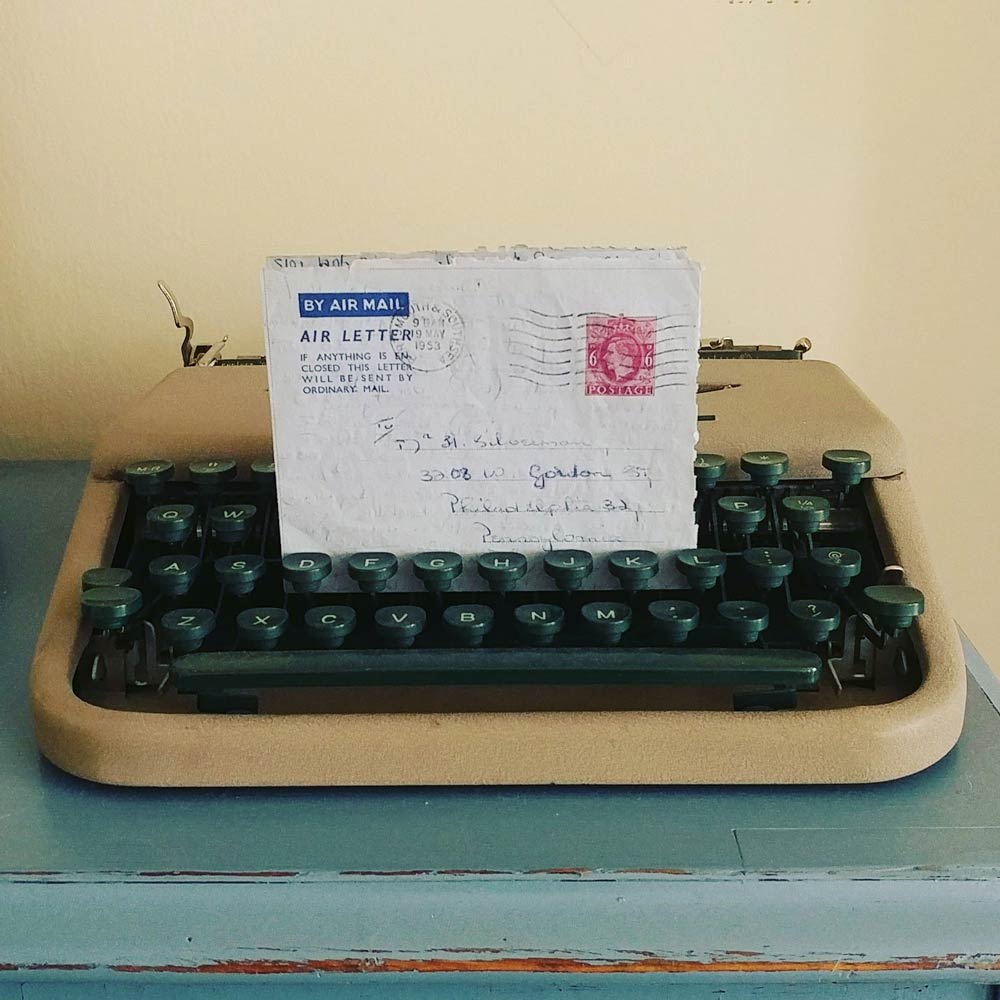 Why did you start writing letters?
I started writing letters because I had been collecting them for Flea Market for so long… When Rachel started Penpalooza on Twitter, I signed up, exchanged a few letters and then, at the height of what Penpalooza was last year, people were just sending letters back and forth – and that's kind of where the density of it came from.
So it really took off during Covid then?
Rachel started the idea because she knew people were in lockdown. And there are some individuals who were letter writing compulsively because of what Covid was like. I think that that will start to thin out now. I don't think letter writing will disappear, I don't think it ever will, but I do think as things open, things will change. Responding to a lot of letters can be very draining.
Why's that?
It has a lot to do with the moment that we're in. It's honoring the fact that a letter is a temporal thing. It's a moment of time that that person wrote, and it's your moment that you're retuning, if you reply to the letter.
In the winter, you pile the bed with blankets, and in the summer you get grossed out to even think you did that a couple of weeks ago- it's so warm now! As the world reopens, a lot of people are still piling a lot of blankets on the bed in the middle of august. While it can still be a comfort thing, but maybe we don't need so much letter writing. It will take time to figure out a schedule for it – it was a big part of my routine, and it will be something that I keep doing, but it will be something that I'll do differently. Just generally because people don't need joy coming through the door in the same way. For some people then, it was sometimes the only thing that happened in a week that made that day different.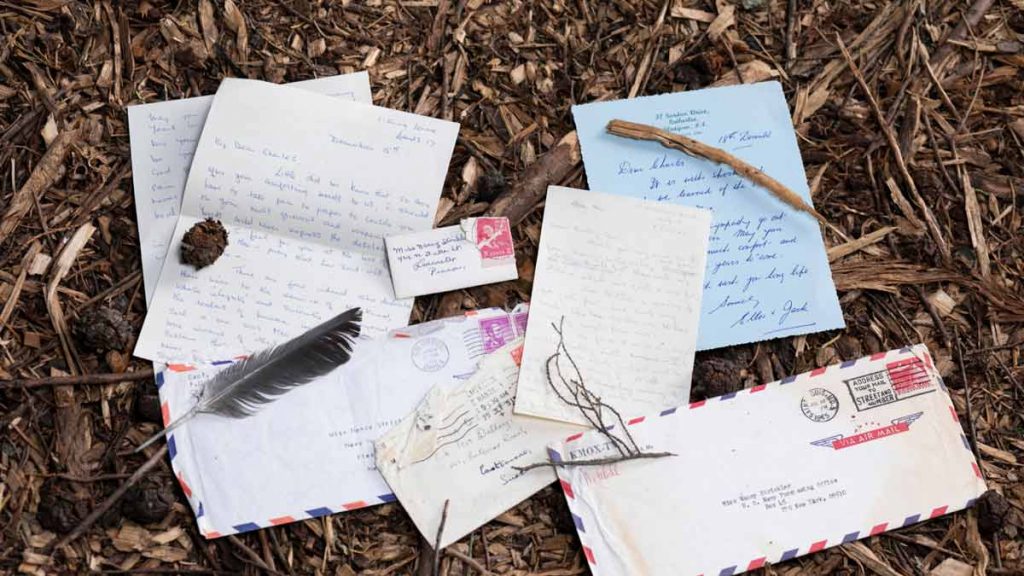 So you think letter writing is coming back, but there's a time and a place for it?
Spot on! Letter writing will only survive if it's encouraged among young people. Because our kids and teenagers have such academic pressure, they have to understand that it's not something that needs to be done instantly. It's not instant: it should be inspired; it should be a fun activity; it should never feel like a job or homework.
"A letter is as individual as a fingerprint."
Do you ever struggle to find a topic when writing yourself?
There are two types of people in letter writing. I fall into the category that tends to be reluctant to talk about myself. I tend to reply to what's in the letter, whereas some people may be very good at explaining what their flat, their street and so on looks like.
From Me To You also share unexpected letter writing prompts like, 'you're a flower in the rain. What does it feel like?' on their Instagram. It can help you tell a whole story in two pages! Things like that are so important, particularly for them, since they're writing to people in isolation or to people rallying against cancer. It's so important to let go of what you think someone wants to read in a letter. A letter is as individual as a fingerprint.
But why put all this in a letter or postcard? Why not use, say, Facebook Messenger?
There's a big intersection at the moment between what you allow to be social and what you keep interior. I'm kind of a weird case because I post dead people's letters on the internet. It's a very weird balance to strike, because I believe in the privacy of the written word. I wouldn't post the inside of a birthday card, it wouldn't be my style. But if it's 102 years old… that's the difference!
But I walk a very weird line. What you put into a letter lasts as long as what we've been taught lasts on the internet. I think there's this mentality that when you send a letter, you'll never get it back. So it's gone. But it has been received. And if you're like me, and you keep everything, then it's a historical artifact in my opinion.
"Letter writing is … not instant: it should be inspired; it should be a fun activity; it should never feel like a job or homework."
Team postcard or letter?
The postcards you see on my Flea Market Love Letters Instagram are birthday cards. It's a one-year project, where basically if you have a birthday in the following month, I will send a birthday postcard. The August goal is to break 100 cards!
I'd be more inclined to send a postcard because I can do it quickly. It's a bit like a text! Then there are people who do things like Postcrossing or Penpalooza because it is so postcard driven.
This year, I have sent more postcards than ever!
Any last thoughts?
I don't make any money off of Flea Market. (I probably spend more money on Flea Market than is advisable!) I created the 'Write More Letters' project which is a fundraiser through Flea Market which benefits US veterans and their families through the sale of sweatshirts, mugs… that sort of stuff. It's been a really great way to drive home the fact that Flea Market is not a voyeuristic thing. It's not something where I invite people in to comment on what's going on in people's love letters. These are real humans. I make jokes, like I 'collect dead people's mail' and 'my house is full of ghosts'. But I genuinely love and respect the letters and who they represent, and I try to present them with as much empathy as possible.
Liz, once again, I really enjoyed talking with you about this. Thank you so much for taking the time to chat with me!
---
Make sure to follow Liz's Flea Market Project here! Below, you can find some of the other projects Liz and I talked about: