Ever heard of nice post? It's the kind of mail you actually like receiving. The short story: that's what PenPal is all about. Pals are part of a global community connected to each other through a love of cultures, new friendships, writing – and of course receiving nice post. Here's how it works.
Once upon a time, you would've had to:
Take up a pen
Write to your pal
Walk to the post office
Buy a stamp
And wait for weeks for a reply which would let you know IF your card came.
Yeah… Not anymore. Now you get to make international new friends with shared interests via postcards, without having to leave the house, share your private address or compromise on a postcard design.
PenPal matches you with new pals, helps you create your postcard entirely online with your own photos, and takes care of the rest. Your postcard gets printed, stamped, and handed to the post within 24 hours before being sent to your pal's encrypted address.
Your privacy is in your hands. Your address, name and personal details will never be revealed over our platform.
PenPal works in partnership with MyPostcard to send printed postcards efficiently.
How to find pen pals and start sending postcards:
First, you need an account. So sign up using a Google email address.
Now you need a pen pal! You can use PenPal Match to get paired with another member, or directly search for and request people if you know someone on the platform already. Use the tags on your profile, to explore public members with similar interests.
Once you have a pen pal, click 'Send Card'. Choose a cool design or upload one of your own photos, craft your message, pay and click send.
A few days later, your postcard will arrive by snail mail at your pal's door.
Once you've sent a postcard, it's your turn to receive a surprise in the mail! You'll get an email as soon as a postcard in on its way to you.
You've received your first postcard. It's awesome. What now?
Once you receive a postcard, it's time to register it using the emoji sequence on the back. That way, your pen pal gets a notification that it's arrived – you even have the chance to leave a reaction to let them know just how excited you were to receive it.
You can find your unique emoji sequence on the bottom right-hand side of your postcard backside.
How to register your postcard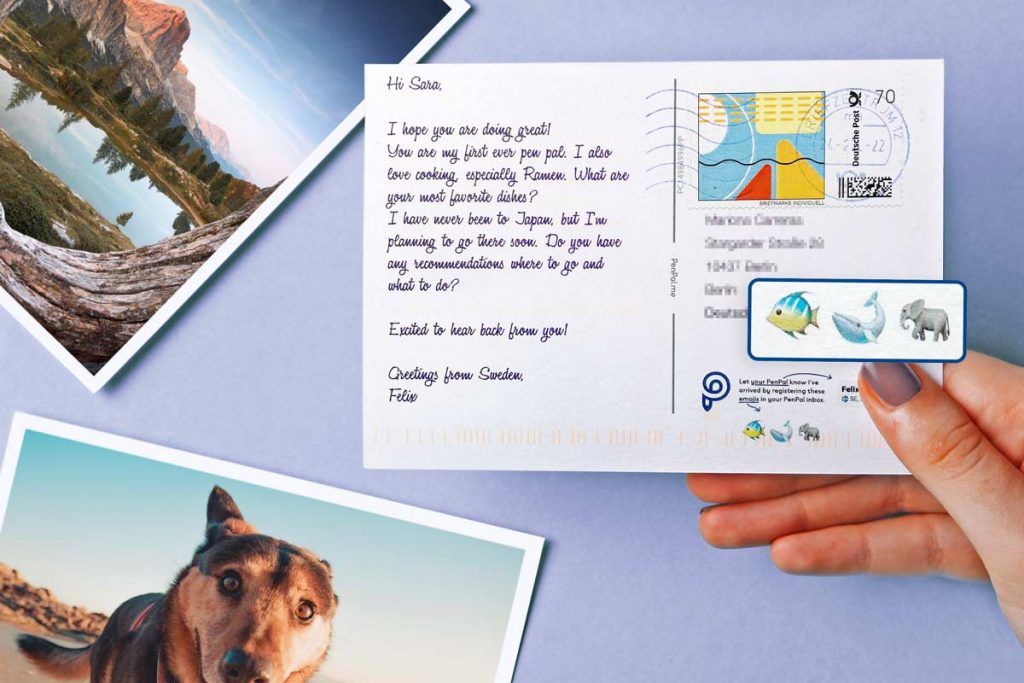 Read more about registering your postcard here, or check out the short version below.
First, navigate to your inbox by clicking on the envelope icon. Here you'll see a record of all the pen pals you're chatting with. Click on the correct conversation.
You'll see a locked photo with a padlock on it. Tap on 'Register'.
Click on the animals you see printed on your postcard. You have 5 attempts to get it right.
Loved your postcard? Now leave a reaction!
You can send as many postcards as you like. The more you send, the more you'll receive.
Have fun and make sure to follow us on Instagram to keep up with us. Use the hashtag #LovePenPal to get a photo of your growing postcard collection featured!