Nowadays, making a genuine friend is a tough get, especially when you're caught up in your social media routine, fast messaging, or with fake friends. PenPal is all about changing that for you. In this article, we reveal how PenPal works and how you can make meaningful connections worldwide.
What is PenPal about?
PenPal is a social matching platform designed to connect like-minded people with shared interests from across the globe (whether they are far away or close to each other) by bridging the digital and physical worlds.
You can match with like-minded people of shared interests and communicate via online chat or send physical postcards that are easily created online. This ensures more meaningful and honest conversations and creates a real connection with your new international friend. Plus, it leaves you a personalized keepsake to put on your wall and remember the conversation with your pal. To learn more about PenPal and our mission, read along here.
How to find pen pals and reach out to them:
Finding international friends on PenPal is as easy as ABC (probably even easier 😉​). We guide you through how PenPal works and what you should know.
Here's how PenPal works:
First, you need an account. So sign up for free, using your email address or Facebook. Get creative with your username – put your own name or something funny like fast_and_the_curious or not_james_bond.
Now you need a pen pal! PenPal matches you with members across the globe that have similar interests as you. With PenPal's filter function you can look for like-minded pals according to gender, age, country, language, etc. Or, directly search for people you know that are on the platform, too (maybe your grandma?).
You can directly reach out to a pal that you find cool to be pen pals, or you can like them and see if they like you back. To say 'Hi' you have two options: you can either chat online or send a physical postcard. The postcard is created online but will be sent physically to your pen pal's door via snail mail. Upload one of your own photos or choose a cool design, craft your message, and click send. Every postcard only costs $2.49 – regardless of where in the world you send it to. So better choose someone far away and not your neighbor (even though that's also possible). 😜​
Now you can start counting the days – or rather, use our online chat
Now it's the part in which our team becomes active. Within 24 hours, we print, stamp, and send your postcard in collaboration with MyPostcard to your pen pal's home.
Once your postcard arrived, you will be notified by your pal when they register the postcard on our platform. Now, it's your turn to receive a surprise in the mail! You'll get an email as soon as a postcard is on its way to you. How long that takes depends on your location. To make you count the days while waiting for the postman, we've summarized the average delivery times. If the numbers get too high to count, you should consider writing your pal on our online messenger already.
You don't want to share your address with a stranger or appear in a stalker movie? Neither do we! Your address is hidden behind your username and will only be printed on the postcard later. This way, it will never be shared with others. Read more about our privacy measures.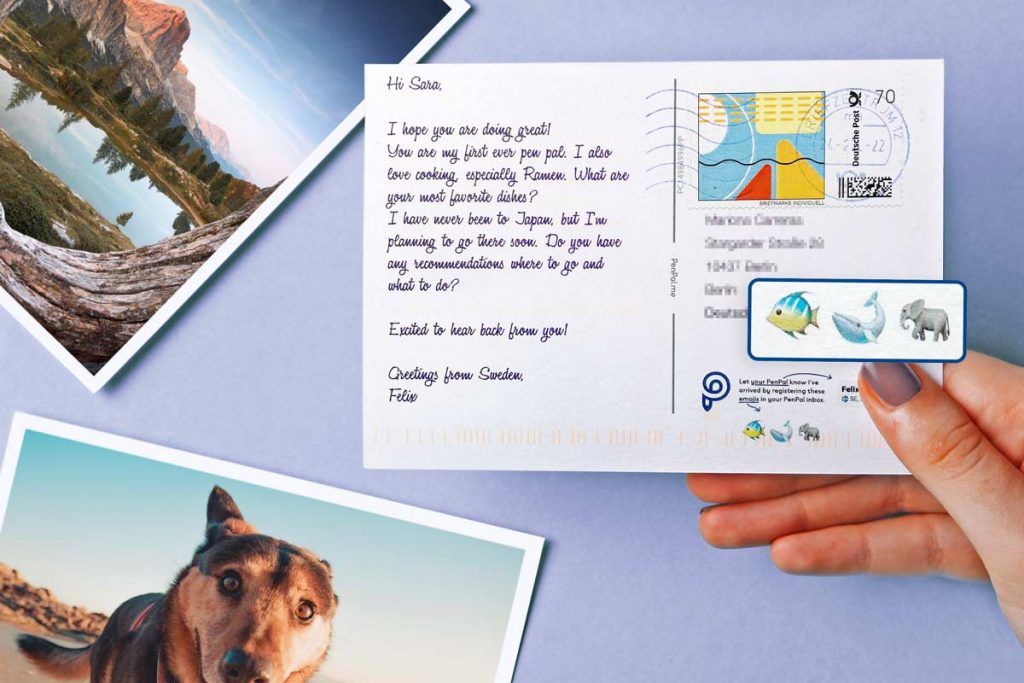 How to let your pal know that your postcard arrived
You've received your first postcard. It's awesome. What now? Once you receive a postcard, it's time to register it using the animal emoji sequence on the back ('cause we like cute animals and can't get enough of them). That way, your pen pal gets a notification that it's arrived safe and sound.
Here's how to register your postcard:
First, navigate to your inbox by clicking on the envelope icon. Here you'll see a record of all the amazing pen pals you're chatting with. Click on the correct conversation.
You'll see a locked photo with a padlock on it. Tap on 'Register'.
Click on the three animals you see printed on your postcard (sorry, we know how much you love dogs, but putting your favorite animal won't work). You can find your unique emoji sequence on the bottom right-hand side of your postcard backside. You have 5 attempts to get it right.
Loved your postcard? We thought so. Now leave an emoji reaction or send your pal a message.
Write a postcard back to your pal – you can send as many as you like. The more you send, the more you'll receive.
Read more about registering your postcard here.
Still doubts about how PenPal works?
No worries, your PenPal crew got you covered! If you want to know more in detail about how we manage your postcard operations, or how we ensure your privacy, have a closer look at our blog. Otherwise, check out our FAQ or just drop us a quick message. We are always excited to hear from our pals!
But for now, have fun and rediscover the joy of finding physical postcards in your mailbox. Make sure to follow us on Instagram to keep up with us. Or share your story with the community and write PenPal history.