We've received a lot of feedback from our users and are committed to making PenPal a safe place for everyone. That's why we've introduced PenPal Premium – to give your matching and postcard experience some extra salt. 🤌 Read along to understand how PenPal Premium works and what's in for you!
⬇️  And if you haven't signed up yet, don't forget to do it now with a quick click on the button below.
What's in for me as a Premium user? 🔥 
PenPal Premium offers you the unlimited PenPal experience and gives you complete control of your interactions. These 6 Premium features are the recipe to make your PenPal experience extra tasty!
Unlimited swipes and likes. Overcome the daily limit of 50 swipes and likes. Get unlimited access to as many PenPal profiles as you want – and find your like-minded soulmate across the world.
Unlimited chats. We do think chatting is important, but we don't want to become another social media. While you can only have one chat as a basic user, chatting is unlimited for Premium users. Pssst.. If you've sent a postcard to another person, the chat will also be unlocked!
Profile boost. Give your profile an algorithm boost and appear 5x more for other users. This will also increase the probability for you to receive a postcard.
Preferred support. Be in direct contact with our Community Manager and receive extra quick feedback on all your questions and issues.
Premium Badge. Last but not least, our PenPal premium will mark you as a Premium user with our blue Premium badge. This verifies you as an active PenPal and increases your interactivity with other users.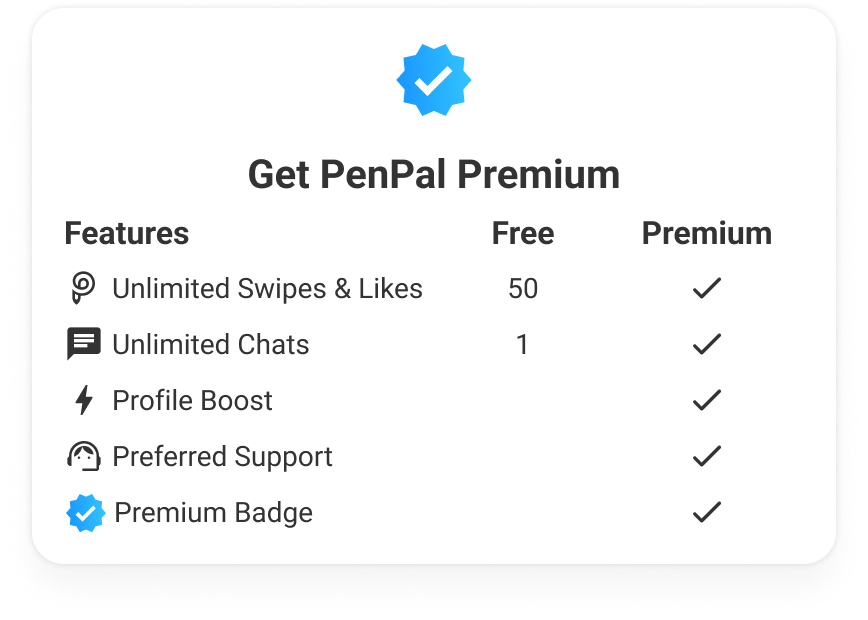 How to become a PenPal Premium user?
Head to your PenPal inbox and click on the Premium button, or just switch to Premium when you've used all of your limited swipes. You can make a one-time payment of $6.49 for your first month, or you can pay the amount of $14.95 directly for the next 3 months and save money! Don't wait too long and make sure to benefit from all our Premium features from the beginning.
Why a premium feature anyway?
We want to make PenPal safer for our community and keep the platform free from weird scammers. While we believe that chats are important to keep in contact on a more regular basis and to discuss urgent topics, we still believe in the power of meaningful communication through postcards. And that's what we want to encourage!
We've listened to the feedback of our community about focusing on physical communication. With a Premium feature, we ensure to not lose sight of what really matters in relationships: meaningful communication!
Believe us when we say you don't want to miss this. Get an upgrade now and give your PenPal experience some extra fun. Any questions? Reach out to us!